Grimsley High School
Class Of 1969
In Memory
Wallace A. (Allen) Sigmon (Sigmon)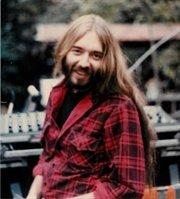 Wallace Allen Sigmon, Jr., "June", passed away at his home in Randolph County on Thursday, July 28, 2011 at the age of 60.
No funeral services will be held.
Mr. Sigmon was a native of Greensboro, NC. He was preceded in death by his parents, Wallace Allen Sigmon, Sr. and Edna Mae Orea Trogdon Sigmon, a brother, William Robert Sigmon, and a sister, Betty Diane Sigmon Calhoun. Allen was the owner/operator of Climax Nursery.
He is survived by a sister, Debra Sigmon Hall of Greensboro, NC; two nieces, Renee A. Richardson and Erika L. Perretta; and two nephews, Neil A. Calhoun and Jesse D. Hall.
The family will receive friends on Wednesday, August 3, 2011 from 6:00-8:00 p.m. at Pugh Funeral Home, 437 Sunset Avenue, Asheboro, NC.
In lieu of flowers, the family requests that you send donations to the Humane Society of Randolph County, P.O. Box 4384, Asheboro, NC 27204.