Grimsley High School
Class Of 1969
In Memory
Susan Phillips (Frazier)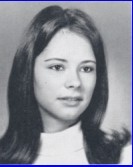 Susan Phillips Frazier

December 9, 1950 - November 18, 2017

Apex

Susan, age 66, died Saturday in her home. She was born in Greensboro, NC to Amos and Helen (Pace) Phillips. Susan deeply loved her husband, Doug, her children, and her grandchildren. She is survived by her daughter, Jennifer R. Frazier, her husband, Justin; her son, Jonathan D. Frazier, his wife, Alana and her two grandchildren, Pace and Anne Reeves. She was a strong believer in Jesus Christ, spending much time studying His word and spreading her love for Him through the gospel. To celebrate her life, a service will be held at Vintage Church, 118 S Person St, Raleigh NC, on Wednesday November 22nd at 2:00pm with a reception following the service.
Published in The News & Observer on Nov. 20, 2017