Grimsley High School
Class Of 1969
In Memory
Luby (L. G. ) Hollingsworth (Hollingsworth) VIEW PROFILE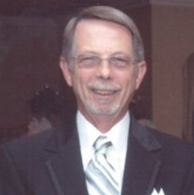 Obituary for Luby Gerard "LG" Hollingsworth III
Luby Gerard "LG" Hollingsworth III passed at Wesley Long Hospital on March 15, 2013 with his loving family present. LG was born September 28, 1949 in Charlotte, to Luby Gerard and Elizabeth Louise Skipper Hollingsworth, Jr.


The family will have a memorial service on Thursday, March 21th, at 6:30 pm at Lambeth-Troxler Funeral Home with the Reverend Josh Parrish officiating.

LG was retired from the US Postal Service. He served in the Army and was a Vietnam War Veteran. His passion was golf, photography and he was an avid supporter of the Wolfpack (Go Pack!). LG was a loving and faithful husband, father, papaw and brother.

LG is survived by his loving wife, Jeanne; son, Justin Gerard; daughter, Ashley Nicole (Mike) Thompson; granddaughter, Giuliana Alexis Thompson; brother, Ken (Diane) Hollingsworth and nephews, Eric and Matt.

The family request donations to be made to the American Lung Association at 1301 Pennsylvania Ave., NW, Suite 800. Washington, DC 20004.
To send flowers or a memorial gift to the family of Luby Gerard "LG" Hollingsworth III please visit our Sympathy Store.
"Lord when all my work is done, Bless my life, grant me one, Old Friend"
- Willie Nelson & Roger Miller (with Ray Price)
Click here to see Luby (L.G.)'s last Profile entry.