Grimsley High School
Class Of 1969
In Memory
Ronald D. Herndon (Herndon)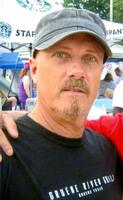 Ronald Dale Herndon, loving and devoted father, grandfather, brother and friend, flew away from his journey on Earth to continue a new life of infinite field trips in Heaven on Sunday November 19, 2017. He will be forever loved and remembered by his son John Herndon and daughter in law, Casey Curl Herndon of Burlington, NC. He will also be deeply missed and cherished by his 2 grandchildren, Payton Herndon of Kernersville, NC and Ryker Herndon of Burlington, NC. His eternal journey leaves behind his Mother, Marie Green Smith, of Pleasant Garden, NC as well as a brother, William "Buddy" Herndon and wife Donna, sister Judy Morgan and husband Rex, and sister Beverly Bushee and husband Duane.
"Ronnie", as known to many, was an avid outdoorsman and enjoyed nature as much as anyone could. His true love and passion was being on a golf course. He was a dedicated traveler and loved seeing as much of the country as he possibly could. Ron loved to go to Oak Island to fish with his best friend of over 50 years, Chuck Hodges and wife Sondra. He was an employee of the USPS for 25 years. Life handed Ron some cards he wasn't prepared to play but he continued to sit at the table of life and play the cards he was given. Heaven wouldn't be the same without a personality like his and it simply became an even better place when he arrived at the gates.
Funeral services will be Sunday, November 26th at 3 p.m. at Pleasant Garden Baptist Church located at 1415 Neelley Rd, Pleasant Garden, NC 27313 followed by visitation with the family. Any donations in Ron's memory should be made to St. Jude's Children's Hospital.