Grimsley High School
Class Of 1969
In Memory
Dannie Dinkins (Dinkins)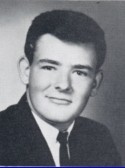 Mr. Dannie "Dan" Lee Dinkins, 53, of 1601 Grove Street, died Saturday, Sept. 4, 2004, at Duke Medical Center.Funeral service will be held at 2 p.m. Wednesday at George Brothers Funeral Service. Burial will follow in Guilford Memorial Park.
Dan was born on March 21, 1951, in Greensboro and was employed with Hydraulics Ltd.
He is survived by his wife, Nancy Dinkins of the home; daughters, Danyelle Dinkins, also of the home, Peggy Jones of Reidsville and Michelle Dinkins of Greensboro; brother Dallas Dinkins of Texas. Dan is also survived by his six grandchildren, including Mikey and Scottie, whom he raised; one great-grandson; and several nieces and nephews.
The family will receive friends from 7 to 9 p.m. today at the funeral home and other times at the residence.