Grimsley High School
Class Of 1969
In Memory
Linda Campbell (Henley)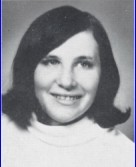 LINDA CAMPBELL HENLEY Mrs. Linda Campbell Henley, 47, of 709 Wicker Street, died Wednesday, Nov. 11, 1998, at Moses H. Cone Hospital.
The funeral will be held at 2 p.m. Saturday, Nov. 14, 1998, at the Masonic and Eastern Star Chapel with Vic Dowd, Chaplin of Masonic and Eastern Star Home, officiating. Burial will follow in Lakeview Memorial Park.Linda worked at the Masonic and Eastern Star Home for the past 17 years. She was a devoted wife, wonderful mother, loving grandmother, true friend, caring daughter and a kind-hearted sister. Her family and friends will greatly miss her love, laughter and guidance.
She was predeceased by her father, John A. Campbell, Jr. and a daughter, Melissa Henley.
She is survived by her husband of 27 years, William B. Henley, Jr.; children, Cherie H. Winkler, BO Henley, Josh Henley; son-in-law, Rich Winkler; grandchildren, Camryn Henley and Jacob Henley; mother, Shirley Campbell and brother, Larry Campbell; and many friends.
The family will receive friends from 6 to 8 p.m. Friday, Nov. 13, 1998, at Lambeth-Troxler Funeral Home.