Grimsley High School
Class Of 1969
In Memory
Jimmy Ball VIEW PROFILE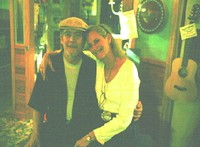 STAPLETON, AL - James H. Ball, Jr. (Jim), age 59, of Tuscaloosa, died at home on Sunday, Sept. 5, 2010.
He was preceded in death by his parents, J. Herbert Ball, Sr. And Marie Shamblin Ball.
Survivors include his wife of 18 years, Lyle Harris Ball; his sister, Rebekah B. Embrey; and nephew, James A. Embrey (Elizabeth) of Wilmington, NC.
Jim, a musician, founded the Guitar Shop in 1976 in Tuscaloosa. In 1992, he and Lyle moved to St. John, U.S. Virgin Islands and opened another shop where Jim became known as "The Guitar Doctor". In 1995, Jim and Lyle returned to the states, settled in Stapleton and opened Pickers Paradise whcih they operated together until Jim's death.
No formal service is planned. In lieu of flowers, the family suggests that donations be made to Musicians for Music, P.O. Box 160, Stapleton, AL 36578 or your local hospice.
Click here to see Jimmy's last Profile entry.